| | | | | | |
| --- | --- | --- | --- | --- | --- |
| | Matches | INNS | Runs | AVG | 100's |
| Sachin Tendulkar | 664 | 782 | 34357 | 48.52 | 100 |
| Rahul Dravid | 504 | 599 | 24064 | 45.57 | 48 |
| Virat Kohli | 440 | 490 | 23049 | 55.27 | 70 |
| Sourav Ganguly | 421 | 485 | 18433 | 41.42 | 38 |
| MS Dhoni | 535 | 523 | 17092 | 44.74 | 15 |
| Virendra Sehwag | 363 | 431 | 16892 | 40.6 | 38 |
| M Azharuddin | 433 | 455 | 15593 | 39.77 | 29 |
| Rohit Sharma | 381 | 397 | 15006 | 44.13 | 41 |
| Sunil Gavaskar | 233 | 316 | 13214 | 46.2 | 35 |
Michael Vaughan
I can't imagine what it feels like to go to bowl him, you charge in, you try and get as much effort into that delivery, you are bowling around 85 miles an hour and Rohit plays a forward defense as if you would like 3 miles an hour and he also plays whips it through the on side and it's kind of that look that was rubbish.
Hardik Pandya
He gives us full freedom to play. However we want to play that actually change my name because give me freedom to express myself expressing myself was the main think in my career which Rohit give me.
Jemimah Rodrigues
Rohit Sharma is my favorite Batter, I really loved watching him bat
SuryaKumar Yadav
when i was overlooked for the Australia tour I was very disappointed but Rohit said I just believe you I am doing great job for the team instead of thinking about it you just do the same thing that you are doing since day one and when the time is right your office be will come may be today or tomorrow you just believe in yourself these words of it boosted my confidence
Trent bolt
Rohit Sharma Hitman is those batsman against whom it has been very difficult to bowl he is very destructive batsman
Kuldeep Yadav
If Rohit Sharma is the captain, you can ask freely on ways to improve about your role in the team
Alyssa Healy
I look at the modern test game and see how it's changed quite a lot, I watch a lot of the men's cricket when I look at someone like Rohit Sharma who is one of the most devastating white ball batters in the world an yet he is really successful open in test cricket, so for me I said look at somebody like him and think about how he translate store skills across all the format could at potentially replicate that somehow.
Kapil Dev
When Rohit Sharma plays he looks very attractive and looks very effortless while playing when he plays it seems that he has all the time he is batting so beautiful to watch
Bumrah
Playing under Rohit Sharma in Mumbai Indians has boosted by confidence immensely
Ishan Kishan
Rohit Sharma is very clever as captain in on the ground it takes very smart moves is supports youngsters a lot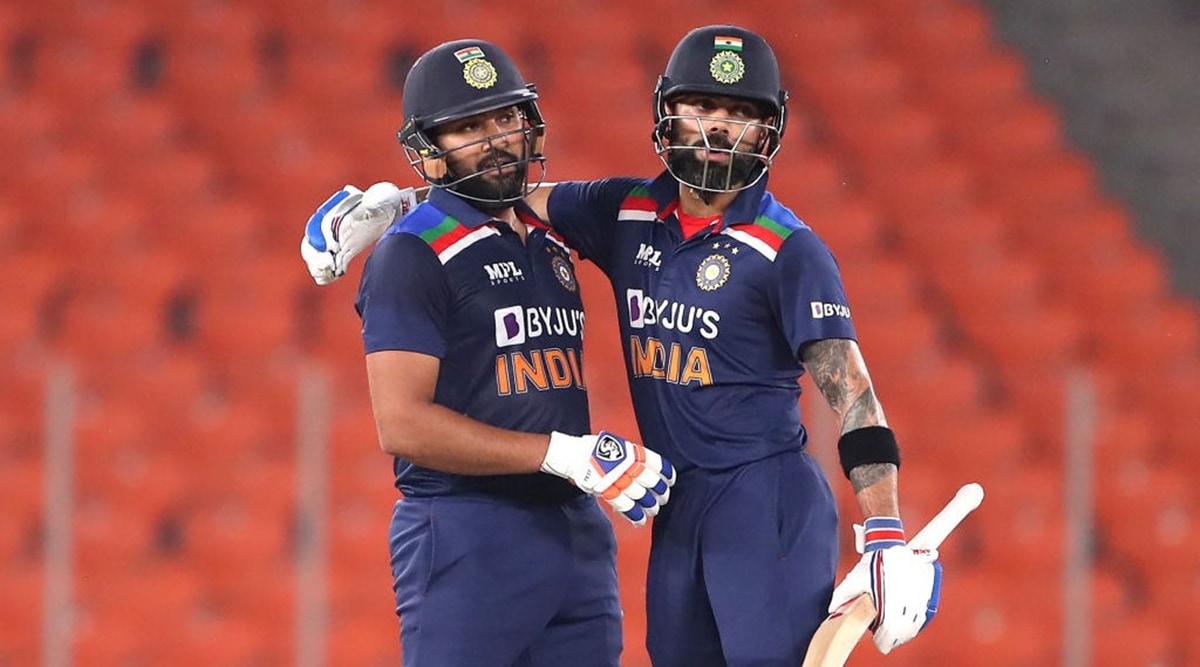 Reports say that the Hit Man Rohit Sharma to become Indian cricket team captain for the white ball(ODI&T20). Virat Kohli is keen in focusing on Batting and prove to be World's best batsman. Virat has tough competition from Joe Root and Kane Williamson in test cricket. Both Root and Williamson showed their best again India in recent test matches. Where as Virat didn't his mark in Insurance Test against England.
Sources says Virat has already had discussion with Rohit and BCCI Management on the captaincy change for white ball cricket.
Not just the fans, some former cricketers have also been making this demand for a long time. The matter was raised even after the defeat in the 2019 World Cup semi-final, but then it got suppressed. BCCI started thinking seriously in this direction during the tour of Australia in 2020-21. Virat Kohli was then on pattern leave, Ajinkya Rahane was the captain of the Test team. India won the series in Kohli absence.
However BCCI joint secretary announced that "We don't have any plans to change captain, Virat Kohli will lead the Indian cricket team for all 3 formats"
I don't think so, Indian team in in super duper form and they don't have to quit the match. There may be a strong reason for quitting the 5th Test match between England and India. It's a valid point from Indian point of view as the most exited IPL matches are ahead. They cannot take risk as many of the coaching staff tested Covid-19 positive just before a day of the match. However there is no clear information about the reschedule whether that test to be rescheduled or cancelled. Most sources says it will be rescheduled early in 2022